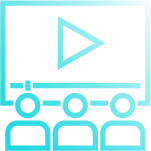 Business Video Presentation
Share your business ideals with the world.
Our talented team can shape out a story for your brand and create a visual narrative for your business. Whether your business is in the service sector or the corporate world, if it needs more traction, we can help you turn the volume up on your brand's visibility.